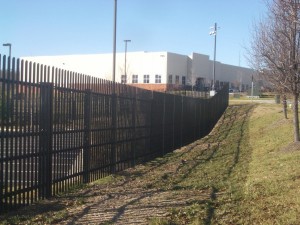 It doesn't matter where you are located in Newport News, Virginia, what you do or what industry you are in, security is important. And there are two ways to address security concerns: proactive and reactive. For instance, security cameras tend to be reactive. They capture what happened and allow investigators to find the culprits. High Security Fences, on the other hand, are proactive. They keep would-be threats at bay.
The Benefits of High Security Fences for your Facility
A high security fence is your commercial facility's first line of defense against threats.
Fences can also be used to limit visibility inside of the premises.
These fences are designed to discourage or prevent climbing.
High security fences are designed to withstand tampering.
High security fences slow down would-be intruders, allowing your security staff to respond before the threat materializes.
Types of High Security Fences
Most high security fences come in two styles: Chain Link and Ornamental Iron. The staple of perimeter security is the galvanized chain link fence. It offers security, but also the ability to see through the fence. Ornamental iron, meanwhile, offers the ultimate in force protection without sacrificing the beneficial rich look of iron fencing.
High Security Fences in Newport News
Hercules Fence has been a High Security Provider since 1955. Our experience encompasses secure chain link fencing, crash-rated barriers, anti-terrorism cable and even ornamental anti-climb fences. Every Hercules Fence high security product is designed for maximum strength and security.
Hercules Fence can also install all types of gates—regardless of size or any custom requirements.
Some of our most prestigious projects include U.S. Army Base, Ft. Lee; NASA; Langley Air Force Base; the Pentagon; Tidewater Regional Jail; and more!
If you have any questions about High Security Fences in Newport News, you can contact Hercules Fence today by calling (757) 316-3600 or visit FencesNewportNews.com today! You can also follow Hercules Fence on Facebook, Twitter, Google+ and YouTube.