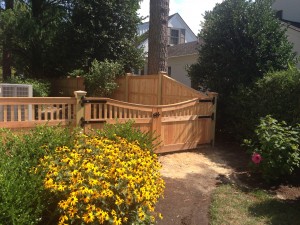 Nothing quite beats the aesthetic appeal of a new wood fence. Whether a picket fence or privacy fence the visual appeal of wood is unequalled.  So why doesn't every homeowner opt for wood? Why do some choose vinyl or chain link? The answer is simple: maintenance. While a wood fence may look great now, if it is not properly maintained, it will not look great for long.  Sun, wind and especially water can wreak havoc on your fence.
How to protect a Wood Fence from Rotting
One of the biggest threats to your new wood fence is wood rot. Fortunately, a little preventative maintenance can go a long way to extend the life of your wooden fence.
Stains and Sealers: Be sure to stain and seal your fence annually. This is the MOST IMPORTANT thing you can do to protect your fence. Staining your fence will help repel water and keep it looking as good as new.
Power Wash: Clean your fence from time to time. A quick washing with a pressure washer will keep away moss and grime, which could lead to rot.
Remove Brush and Debris: Brush and debris allowed to lean against your fence help trap moisture against the wood. This will, over time, help contribute to wood rot. So do your best to keep your fence clear of debris, especially leaves.
Keep Plants Away: Keep bushes and vines off the fence. Like leaves and debris, plants retain moisture and help contribute to rot.
Sprinklers: Make sure your sprinkler doesn't constantly bombard your fence with water. This will causes the wood to rot faster.
Snow Removal (Winter): In winter, be sure to remove snow that comes in contact with your fence. If excessive moisture is bad, you can imagine just how harmful several feet of snow can be to your fence.
If you have any questions about the How to protect a Wood Fence from Rotting, you can contact Hercules Fence of Newport News, Virginia today by calling (757) 316-3600 or visit FencesNewportNews.com today! You can also follow Hercules Fence on Facebook, Twitter, Google+ and YouTube.