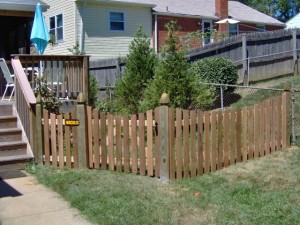 As we have said time and time before, there are numerous benefits to owning a fence, ranging from increased curb appeal and home value to privacy and so much more. However, as Uncle Ben once said in the movie Spiderman, "with great power comes great responsibility." There's a code of etiquette that fence owners, like you, need to follow in order to maintain a friendly relationship with neighbors.
Proper Fence Etiquette
Pick the Right Side: The No. 1 no-no is giving your neighbors the ugly side of the fence. While there is definitely a certain logic that supports this decision, etiquette dictates that the rail side should face inward. Furthermore, some homeowners associations (HOA) actually mandate this.
Follow Property Lines: Before constructing a new fence, make sure you know where your property begins and ends. To avoid confusion with your neighbor: it's good to pull up your deed to pinpoint property lines. Nothing will start a dispute quicker than placing a fence on your neighbor's property.
Joint Venture: If your neighbor already has a fence, you may consider building your fence off of that one. However, it is important to talk to your neighbor before doing this.
Give em' Notice: Before constructing a new fence, consult with your neighbors and allow them to provide any concerns they may have. It is better to get this out of the way now.
Fence Maintenance: You're not the only one who has to look at your fence, everyone else does too. Please, please, please keep up with regular fence maintenance. This will not only keep your fence in tip-top shape, but it will also help you avoid disputes with your neighbor. Remember, an old, dilapidated fence not only affects your home value, but also your neighbor's home value.
HOA Rules: The Home Owner's Association (HOA) has rules and statutes that homeowners must follow. If you want to build your fence without breaking any rules, please refer to it first before you construct your fence.
If you have any questions about the Proper Fence Etiquette, you can contact Hercules Fence of Newport News, Virginia today by calling (757) 316-3600 or visit FencesNewportNews.com today! You can also follow Hercules Fence on Facebook, Twitter, Google+ and YouTube.
Sources:
Privacy Fence Etiquette eHow.com