If you're in the market for a fence, you know that you have many options to choose from. Aluminum, wood, chain link, wrought iron, and vinyl are the more common materials used for fencing. So why should you consider aluminum fencing? Read on to find out.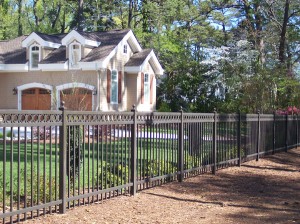 Affordability
Aluminum fencing not only costs less to install than wrought iron or wood fencing, but it also costs less over time. Why is that?
Durability
Aluminum fencing is durable and easy to maintain. While wrought iron will rust and wood will deteriorate, aluminum will avoid wear and tear for decades. If something does happen to the fence, it is easy to repair, and can be fixed without having to remove large sections of the fence. Aluminum fencing is also very useful for your backyard pool, as it will be able to withstand the constant exposure to moisture in the air.
Customizable and Flexible
Aluminum fences are painted by means of the powder coating method which fuses paint to the metal. Aside from offering a variety of options in terms of color scheme, this process has the added bonus of increasing aluminum fencing's resistance to the elements. Aluminum fencing is also easily adapted to the contours of the land, meaning no holes where there's a slight dip in the ground. Aluminum fencing comes in residential, commercial, and industrial grades, so you can chose the one that best fits your needs.
For more than 50 years, Hercules Fence has been providing the people of Newport News with professional service and quality fence installation. We can handle any of your fencing needs, including aluminum fencing, vinyl fencing, wood fencing, and so much more! We take great pride in the wide range of fencing options we offer our residential and commercial customers.
Let us help you!
If you have any questions about Aluminum Fencing, you can contact Hercules Fence of Newport News, Virginia today by calling (757)316-3600 or visit FencesNewportNews.com today! You can also follow Hercules Fence on Facebook, Twitter, Google+ and YouTube.
Sources
http://www.charlottefencecompany.com/article19-aluminumfence.html
http://blog.riversidefence.net/benefits-of-an-aluminum-fence/
http://www.wisegeek.com/what-are-the-advantages-of-an-aluminum-fence.htm