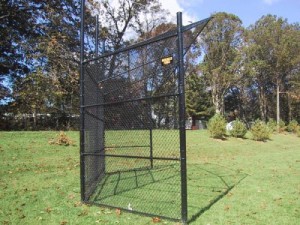 Do you own or operate a baseball or softball field or batting cage facility? If so, you know the importance of a good fence. It defines the boundaries of the field, it prevents you from chasing baseballs all over the place, and, most importantly, your fence helps protect spectators from foul balls. But what type of fence is best?
Vinyl Coated Chain Link Fence, Perfect for Baseball Fields, Backstops and Batting Cages
Hercules Fence highly recommends a vinyl coated chain link fencing for your batting cage, backstop, or baseball field. Our vinyl coated fencing features a poly vinyl coating or polyester coating to provide a baked-on finish that is scratch resistant. Vinyl coated chain link provides the security of chain link with the attractiveness of a vinyl coated finish. That's what we like to call a win-win.
If you are interested in learning more about vinyl coated chain link or any of our other fencing products, please contact Hercules Fence of Newport News, Virginia today! One of our trained commercial salesperson can explain each of our fencing materials in more detail, allowing you to make a more educated decision about your new fence. With over 50 years in the fence business, Hercules Fence knows a thing or two about fences of all shapes, sizes, and materials. Take advantage of this experience today. We look forward to hearing from you and meeting your fencing needs.
If you have any questions about Vinyl Coated Chain Link, Perfect for Baseball Fields and Batting Cages, please contact Hercules Fence in Newport News, Virginia by calling (757) 316-3600 or visit FencesNewportNews.com today! You can also follow Hercules Fence on Facebook, Twitter, Google+ and YouTube while you are at it!