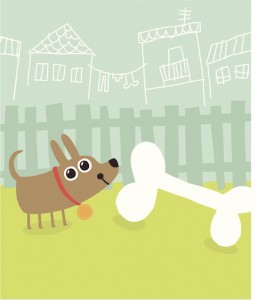 Your dog is a part of your family. The only difference – besides the fur, tail, and lack of an opposable thumb – is that your dog needs to do his/her "business" outside. So it is important to ensure your four-legged family member is safe. So you have a couple options. 1) Walk your dog every time he/she needs to go to the bathroom. Ain't nobody got time for that! 2) Install a dog run. 3) Fence in your yard.
Now, the only solution that is both beneficial for you and Fido is No. 3: a new fence.
Keep Your Four-Legged Family Member Safe with a New Dog Fence
According to The Whole Dog Journal, an online periodical dedicated to man's best friend, a six-foot wood privacy fence is the best possible option to keep your dog safely confined to your yard. This is because privacy fences are tall enough to keep even larger dogs contained. Of course, you have other fencing options as well.
Chain Link Fencing: Chain link is affordable and it gets the job done. This is the workhorse of the fence industry and is available in multiple grades and strengths.
Aluminum Fencing:  If chain link and wood are not for you, aluminum may be the way to go. Hercules Fence is proud to be one of the top dealers in the country for Aluminum Fence. Our aluminum fences looks great with any style home and complements beautiful landscaping while not limiting a picturesque view.
Vinyl Fencing: Vinyl fencing has become very popular because of its clean appearance and long product life with minimal maintenance. Vinyl is easily one of the most aesthetically appealing ways to keep your dog in your yard.
Call Hercules Fence to Install Your New Dog Fence
Hercules Fence has been providing professional service and quality installation for both commercial and residential customers in Northern Virginia since 1955. Over the years, we developed a reputation for quality work and fare, competitive prices. As the largest fence company in Virginia, Hercules Fence is able to offer you a premium quality wood fence without the premium price tag. Talk about a win-win!
Click Here to request a FREE quote!
If you have any questions about Fence construction, you can contact Hercules Fence of Newport News, Virginia today by calling (757) 316-3600 or visit FencesNewportNews.com today! We are the largest fence company based in Northern Virginia. You can also follow Hercules Fence on Facebook, Twitter, Google+ and YouTube.