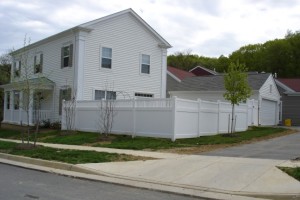 Are you in the market for a New Fence? Do you live in Northern Virginia? If so, Hercules Fence of Newport News, Virginia is here for you. We have been providing professional service and quality installation for residential fences in Northern Virginia. Please take a moment to browse our many new fence options: Custom Wood Fences, Ornamental Steel Fences, Ornamental Aluminum Fences, PVC Vinyl Fences, and Chain Link.
Benefits of a New Fence
Curb Appeal: First and foremost, a new fence will add instant curb appeal to your Northern Virginia home. According to studies, it takes someone just 30 seconds to form an opinion of a home, which means aesthetic appeal plays a large role in that.
Safety: A new fence will help keep your children or pets out of harm's way, keeping them in your yard and unwanted pests out.
Privacy: The right new fence will improve the privacy of your backyard, keeping your nosey neighbors at bay. Now you and your family can relax in peace.
Real Estate: According to studies, 10% of potential homebuyers cannot see the potential of a home. This is why it is so important to have your home looking its best even before you put it on the market. Furthermore, 85% of potential homebuyers will look at a home online first. If they do not like what they see, they will never visit the home in person. This is why curb appeal is so important.
Home Value: A new fence will help increase the value of your Northern Virginia home.
Noise Reduction: The right new fence can greatly reduce the noise pollution in your backyard.
And More!
There are so many benefits to a new fence in Northern Virginia. Let Hercules Fence help you find the new fence that best fits your wants, needs, and, most importantly, budget. Hercules Fence is the largest fence company based in Virginia. We know a thing or two about fences.
If you have any questions about purchasing a New Fence in Northern Virginia, or if you have any other fence related questions, please contact Hercules Fence by calling (757) 316-3600 or visit FencesNewportNews.com today! You can also follow Hercules Fence on Facebook, Twitter, Google+ and YouTube while you are at it.