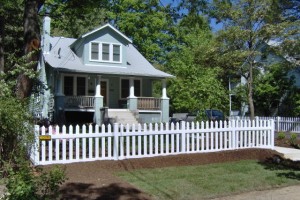 Fences come in just about every shape, size, and material you can think of. There are wood and vinyl picket fences, chain link fences, wood and vinyl privacy fences, decorative aluminum fences, and so much more. With so many options, you should easily be able to find a fence that matches your décor. But you don't want just any fence. You want the perfect fence. So how do you decide between wood, vinyl, chain link, and aluminum? Well, first you learn everything you can about each material. This week, we are going to focus on vinyl fences.
What are the Benefits of Vinyl Fences?
First of all, vinyl fences are incredibly attractive, making them the perfect choice for any homeowner trying to add curb appeal to their home.
Vinyl fences are incredibly durable, outlasting their wooden counterparts. In fact, vinyl fencing is nearly five times stronger than wood.
Vinyl fences are not just strong, they are also flexible, making them perfect for areas with severe weather and high winds. Wood fences are more likely to break or collapse in such conditions.
Vinyl fences are easy to maintain and clean (just use soap and water). Unlike wood fences, these fences never need to be painted or stained. There is also no danger of rotting.
Perhaps best of all, vinyl fencing is extremely affordable, especially when you take into account the long life and limited maintenance. You would be a fool not to consider vinyl fencing.
Vinyl fences can even be recycled, making them an eco-conscious option for those homeowners who care just as much about the environment as they do their curb appeal.
Vinyl Fences from Hercules Fence in Northern Virginia
If you are interested in a new vinyl fence, or any fence for that matter, pick up the phone and call Hercules Fence of Newport News, Virginia. Hercules Fence has been providing professional fence services and installation throughout Northern Virginia since 1955. We can handle all of your residential fencing needs, from Custom Wood Fences to Ornamental Steel Fences to Ornamental Aluminum Fences to PVC Vinyl Fences and more.
If you have any questions about the Benefits of Vinyl Fences, you can contact Hercules Fence of Newport News, Virginia today by calling (757) 316-3600 or visit FencesNewportNews.com today! You can also follow Hercules Fence on Facebook, Twitter, Google+ and YouTube.