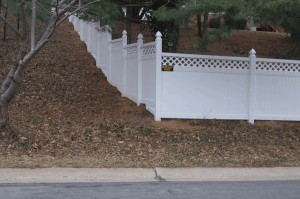 Homeowners and business owners know there are many benefits to fencing, benefits that appeal to both residential and commercial applications: primarily curb appeal and security. The decision to invest in fencing is an easy one. The tough decision comes when trying to figure out who to trust with your new fence installation. Actually, we lied. That decision is pretty easy too…
Residential and Commercial Fence Installation in Northern Virginia
Hercules Fence has been providing professional fence installation – both residential and commercial – throughout Northern Virginia since 1955. Over the years, we have grown to be the largest fence company in the state, developing a reputation for quality work and fare, competitive prices along the way. Please take a moment to browse our many residential and commercial fencing options.
Click Here to request a quote today!
Fence Installation Boosts Curb Appeal
Studies have shown that potential customers have increased confidence in businesses with aesthetically pleasing storefronts. You see, despite being taught at a young age to never judge a book by its cover, we, as consumers, do just that each and every day, making snap judgments based on nothing but aesthetics. The eye naturally gravitates to what the mind finds most engaging or most aesthetically appealing.
"The big idea here is that perceptual processes happen in the brain in parallel with economic value computations and thus influence how economic decisions are made," said Milica Mormann, a researchers from the California Institute of Technology.
Your business's curb appeal has a huge effect on whether or not a customer decides to do business with you.
Fence Installation Improves Security
There are approximately 176,985 property crimes – burglary, larceny, theft, motor vehicle theft, arson, shoplifting, and vandalism – in Northern Virginia annually, according to neighborhoodscout.com. When it comes to affordable security measures that work, fencing is at the top of the list. A fence is a great deterrent to criminal activity.
If you have any questions about Fence Installation in Northern Virginia, you can contact Hercules Fence of Newport News, Virginia today by calling (757) 316-3600 or visit FencesNewportNews.com today! We are the largest fence company based in Northern Virginia. You can also follow Hercules Fence on Facebook, Twitter, Google+ and YouTube.