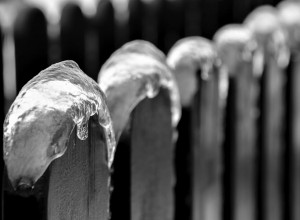 The Farmer's Almanac is calling for a colder than normal and wetter than normal winter here on the East Coast. If that isn't convincing enough, climate experts at the National Oceanic and Atmospheric Administration agree. Winter is coming to Newport News, Virginia and it's going to be a cold one. Are you ready? More importantly, is your wood fence ready? Wait…what?
Winter Is Coming to Newport News
With regular maintenance and timely repairs, the average life of a wood deck is roughly 20 years. If you take great care of your fence this number can be as much as 30 years or more. Of course, this is all contingent on one thing: regular maintenance. And there is no better time to address this than fall. With winter right around the corner, your wood fence is left vulnerable…if you do not act.
Wood and moisture do not exactly get along. When allowed to penetrate your wood fence, moisture will greatly decrease the useful life of your fence. So, why not fight back.
Prepare Your Wood Fence for What's Coming
Inspect Your Fence
Before doing anything else, check your wood fence for signs of damage: loose nails, warped or rotting boards, etc. If you find anything, address the issue(s) immediately. As the old saying goes, a stitch in time saves nine. While not meant for fence maintenance, the same basic principles apply. A little maintenance now can save you a lot of work in the future.
Clean Your Fence
Over the years, your fence can accumulate a wide array of dirt and grime. Give your fence a quick cleaning. You can do this using your garden hose or a power washer. If you choose the latter, just be sure you stay far enough away as to not damage the wood. Power washers are…well, powerful.
Waterproof Your Fence
Waterproofing – staining and sealing – your fence is the BEST thing you can do to protect it from harsh winter weather. So roll up your sleeves and get to work. One morning of hard work is worth it for years of protection.
Sorry Jack Frost. This fence is off limits.
Keep Leaves, Debris, and Snow at Bay
By keeping your fence clear of materials that trap in moisture, you give the ground its best chance of drying out. It also keeps excess moisture off your fence.
Trim Tree Branches
While not directly related to your fence, overhanging branches can pose a threat. With the added weight of snow, branches can snap and damage your fence. Yikes! So be proactive and trim overhanging branches back before winter.
Wood Fence Installation in Newport News
Since 1955, Hercules Fence has been providing professional fence installation and services throughout Northern Virginia. As the largest fence company in the state, Hercules Fence is able to offer you a premium quality fence without the premium price tag. That's what we like to call a win-win!
While you are here, please take a moment to browse our many residential  and commercial fencing options.
If you have any questions about Wood Fence Maintenance and Installation, you can contact Hercules Fence of Newport News, Virginia today by calling (757) 316-3600 or visit FencesNewportNews.com today! We are the largest fence company based in Northern Virginia. You can also follow Hercules Fence on Facebook, Twitter, Google+ and YouTube.