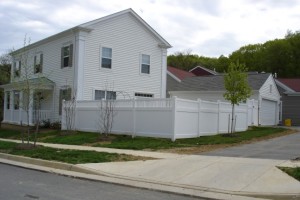 Your yard is your kingdom. It is where you go to hang out with friends and family. It is where to go to get away from the world. You take great pride in your yard. Unfortunately, it is not quite as private as you would like. There is nothing keeping your neighbor's prying eyes from making their way to your backyard, watching every little thing you do. It's like you are living in a fishbowl: no privacy at all.
Enough is enough. If a man cannot find solace in his yard, where he can? It is time to fight back. Fortunately, there are several ways to not only add privacy to a yard, but also aesthetic appeal. Some of the below suggestions will also help reduce noise pollution, while others will boost the value of your property.
So what are you waiting for? Let's get started.
Simple Ways to Add Privacy to a Yard
Let Nature do its Job: A nice, aesthetically pleasing way to add privacy to your yard is through natural means. Plant a few trees, shrubbery, or maybe a hedge.
Container Gardens: Perhaps you want to add a bit more privacy to an element of hard scape, like a deck or patio. For these structures, a container garden may be just the solution for you. These man-made containers can be constructed to meet your specific needs. Then, simply plant some attractive flowers and other plants. Viola…privacy!
Pergolas are perfect: Want to build your own little haven in your yard? Consider a pergola. These visually appealing structures add so much more to a yard than just privacy.
Lattice: Lattice, when combined with climbing plants or vines can add a breathtaking element to your yard while also giving you the privacy you desire. That is what we like to call a win-win.
Install a Fence: An oldie, but a goodie. Fencing is the perfect way to add privacy, aesthetic appeal, and value to your home. The right fence can also cut down on noise pollution. Are you tired of hearing your neighbors yap all day and all night? Maybe a neighboring dog never stops barking. Either way, a fence can help.
Hercules Fence in Newport News, Virginia
If you are interested in a new fence in Northern Virginia, you have come to the right place. Hercules Fence has been providing professional fence services and installation throughout Northern Virginia since 1955. We can handle all of your residential fencing needs, from Custom Wood Fences to Ornamental Steel Fences to Ornamental Aluminum Fences to PVC Vinyl Fences to Chain Link Fences and we are more than happy to answer any questions you might have.
If you have any questions about Simple Ways to Add Privacy to a Yard, you can contact Hercules Fence of Newport News, Virginia today by calling (757) 316-3600 or visit FencesNewportNews.com today! You can also follow Hercules Fence on Facebook, Twitter, Google+ and YouTube.