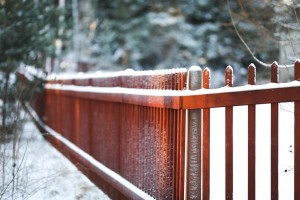 Six more weeks of winter. That was the new everyone's favorite groundhog bestowed upon us last week. Six more weeks of frigid temperatures. Six more weeks of snow. And six more weeks for winter to wreak havoc on your wood fence. This is especially true after this year's harsh winter weather.
Preventing Winter Fence Damage
Moisture Build Up: One of the biggest culprits of winter fence damage is moisture, which can lead to wood rot and mildew (addressed below). To prevent this, take the time each spring to properly stain your fence. Also remove snow from around the base of your fence after each storm. Excess moisture can still damage a stained fence.
Falling Limbs: Another common cause of winter fence damage is falling limbs. When weighed down by snow and ice, tree limbs tend to snap. When these limbs are located over your fence, disaster can follow. To prevent this from happening, trim tree limbs back before any major storms.
Shifting Soil: Because of the constant freezing and thawing of winter, soil tends to shift. When this happens, your fence posts can become loose. This should not be a problem if your fence was proper installed, but it is something to look out for.
Mold and Mildew: After a long, dark, and wet winter, like the one we are currently having, it is not uncommon for moss to build up on a wood fence. Cleaning moss off a wood fence can be a daunting task, but it is doable.
Wood Fences from Hercules Fence
Since 1955, Hercules Fence has been providing professional service and quality installation for residential fences in Northern Virginia. Please take a moment to browse our many options, from Custom Wood Fences to Ornamental Steel Fences to Ornamental Aluminum Fences to PVC Vinyl Fences, Chain Link, and more. Our residential fences are not only extremely durable, but also aesthetically appealing.
If you have any questions about Winter Fence Damage or if you have any other fence related questions, please contact Hercules Fence by calling (757) 316-3600 or visit FencesNewportNews.com today! You can also follow Hercules Fence on Facebook, Twitter, Google+ and YouTube while you are at it.